JMax Productions
Dirty Honey, Black Sunshine
Tue
November 12, 2019
8:00 pm
PST
(Doors:

7:30 pm

)
All Ages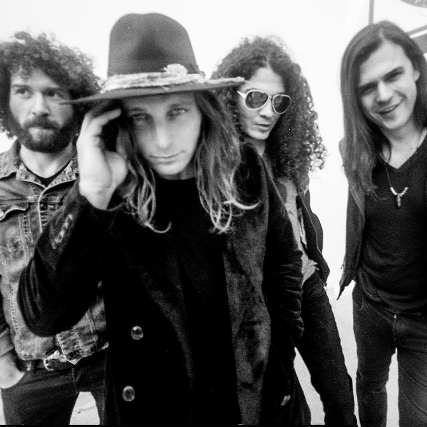 $12.00
Tickets are available locally at Recycled Records, The Melting Pot World Emporium & Smoke Shop or The Saint (at the bar)
John Notto likes to call the sound of his band, Dirty Honey, "New Fashioned Rock 'n' Roll." You'd be hard-pressed to find a better description.
The Los Angeles quartet is indeed a rock 'n' roll band, straight up and with no apologies or explanations needed -- and a fan base that includes Guns N' Roses, Slash & the Conspirators, and The Who, all of whom have tapped Dirty Honey to open for them. The five songs on the group's self-titled debut EP are filled with everything that's real rock fans love -- meaty melodies, explosive dynamics, grooves as tight as a sealed envelope, vocals that bellow across the ice and snow of Valhalla and guitar riffs that come at you like a heavyweight haymakers. Spend 20 minutes with Dirty Honey, and you'll find yourself asking, sincerely, "Please sir, may I have another..."
"We've been able to identify what speaks most honestly to us, which is what you hear on (the EP)," notes guitarist Notto. "What we do is from the prime-time vinyl era -- the 70s and maybe a touch of early 80s, and 90s, with some modern stuff as well. And over the past couple of years of hard gigging, Dirty Honey has found it's not alone in craving that kind of music.
"Millennials have been starved of truly great rock music for a long time," says front man Marc LaBelle. "At some point, EDM and hip-hop isn't the new thing anymore and what's fresh again now is rock. Every day walking around L.A. you'll see dozens of T-shirts with Zeppelin, the Who, the Stones and Beatles logo. Rock 'n' roll will never die -- thought it might take a nap for a few years here and there." Drummer Corey Coverstone, meanwhile, comes straight to the point, adding, "It's been missing for a long time. People want it. We want to give it to them."
The group has continued to mine its reputation as a cranking live act, both on its own and supporting major names as well as at festivals such as Sonic Temple, Welcome to Rockville, Rocklahoma, Heavy MTL, Epicenter and the Impact Festival.
Dirty Honey is both a destination and a beginning for the band. Mostly, however, it's a the first of what Dirty Honey hopes will be many declarations of rock 'n' roll prowess and creative intent, forging a fresh path from familiar conventions.
"We want to be as big as Aerosmith and the Black Keys and AC/DC one day," LaBelle says. "Additionally, we want the band to grow to a place where Dirty Honey is just its own identity, like all of our predecessors." Notto concurs, adding that, "we want to be a band that stands out as unique, memorable, and timeless. We want our live shows to be MORE than the record. And we want to push it to the edge every chance we get."