JMax Productions
Yelawolf with special guests The Outfit, TX, Wild The Coyote and Badd Wolf & Chandler P
Fri
October 18, 2019
8:30 pm
PDT
(Doors:

7:30 pm

)
Midtown ,
51 Greenwood Ave, Bend, OR
(
map
)
All Ages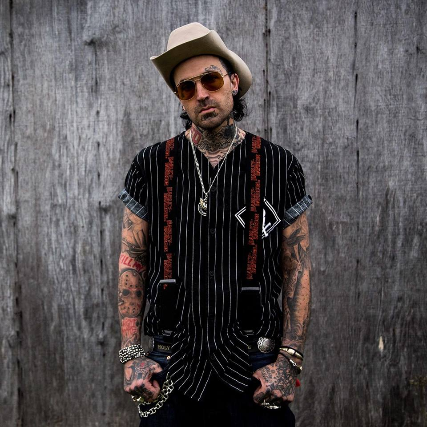 $25.00
Tickets available locally at Ranch Records (117 NW Oregon Ave)
Yelawolf Meet & Greet Experience Package includes:
1 GA Ticket with Venue Early Entry

1 Meet & Greet and Photo Opp with Yelawolf

1 Limited Edition Yelawolf Tour Poster

1 Exclusive Merch Gift

1 Commemorative VIP Laminate
The very day Yelawolf was born, his teenage mother strapped him into a stroller and rolled him around the mall. The first week of his life, she took him to house parties, and by the time he left high school, the family had roamed to so many towns that Yelawolf had attended 15 different schools.
Yelawolf was born Michael Wayne Atha in Gadsden, Alabama, where his two musical loves grew organically. His mom dated a sound engineer, and Wolf remembers being onstage at age six with Dwight Yoakam, and Run DMC coming by his house to party after their local show when he was seven. "I woke up in this trailer park and figured out what was ironic about who I was and where I was from wasn't that what I was experiencing was new. It was just that I recognized the extreme of it," he says.
After being homeless in Berkeley and working on a ship off the coast of Washington state, Yelawolf landed back in the South and started making mixtapes. He was purposefully rowdy, wearing head-to-toe deer hunting camouflage and gold teeth. In Atlanta, Wolf and his friend Malay (the producer who later won a Grammy for Frank Ocean's Channel Orange) started a "futuristic country hip-hop rock band" that included both a DJ and a black fiddle player. Their self-described "arena rap" became popular in Atlanta, pulling huge crowds as well as the attention of Lil Wayne and L.A. Reid. But their idea was ahead of its time and fizzled.
Wolf was poor, and his now ex-girlfriend and their child were still living in Gadsden. Running out of options, he returned to Alabama with producer WLPWR. "We got an 8-track recorder in the back of this shitty house in this factory neighborhood worthy of any Harmony Korine film, and we wrote Trunk Muzik front to back," he says. He hustled back to Atlanta to record it, and the tape that set his career ablaze and resulted in his working with legends like Bun B and Big Boi was completed in all of a week and a half.
"I'm not reinventing the wheel. It's nothing Kid Rock hasn't done," he says. "But what is new is my deep appreciation for lyricism in hip hop, [my desire] to be a great lyricist. And a deep appreciation for outlaw country, for raw classic rock. I started to learn how to blend concepts together."
"It might be simple, but when I decided to put down sneakers and throw on some boots … it feels like I've come full circle ... riding Harleys with my Dad ... it all makes sense, " he says. A smile enters his voice. "It's the biggest exhale."
YelaWolf's new album Love Story is in stores NOW!