JMax Productions
The Lacs, Black Stone Cherry, The Josephines
Sat
November 2, 2019
8:00 pm
PDT
(Doors:

7:00 pm

)
Midtown ,
51 Greenwood Ave, Bend, OR
(
map
)
All Ages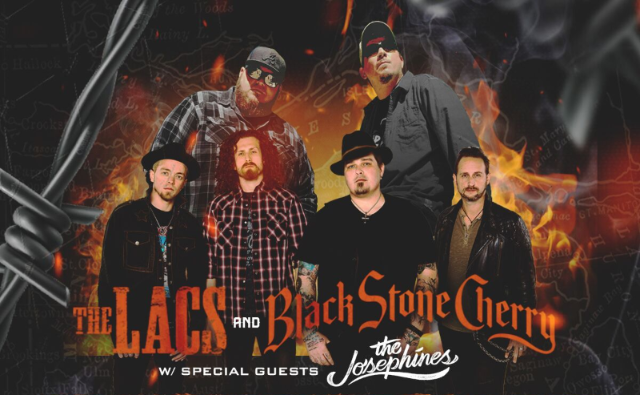 $25.00
Tickets available locally at Ranch Records (117 NW Oregon Ave)
You and I both know that America has been through a lot these past few years. Clay "Uncle Snap" Sharpe and Brian "Rooster" King know it better than most. But as The Lacs, they've had a unique view of where we've been, where we're going — and what parts of our identity haven't changed at all.
On American Rebelution, their aptly titled sixth album, The Lacs take all that they've witnessed, roll it up in a unique sound they call "dirt rock" and lay down the truth as they see it. Yes, these 12 tracks stand on the hip-hop/country/Southern rock bedrock Clay and Brian pioneered along with a handful of other innovators. But that's just the beginning of this story.
Nearly 20 years ago, these proud sons of Baxley, Georgia, unleashed their first beats and ripped through their first rhymes. Since then they've headed down highways far from the hometown dirt roads, watching landscapes roll past on the way to their next shows. Over time their venues got bigger, their audiences more diverse. They still play the mud parks for their longtime fans, but lately they've noticed differences in the crowds they're drawing.
"We've really noticed how our crowds are growing. That's awesome," Brian rumbles over the phone from their bus, en route to wherever joint he and Clay will be rockin' in a few hours. "It feels great when people come up and say that because of our music they went to a mud park for the first time. I'm like, 'Don't you wish you'd done it years ago?'"
He laughs, a gully-deep chuckle as Clay jumps in. "It's definitely no disrespect for anybody that don't live our lifestyle, but this is us and everybody who comes to our shows is just like family. We've learned a lot from our fans over the past few years."
Much of what they've learned courses throughout American Rebelution. The soul of The Lacs is right where it's always been, front and center in their music, infused by pride in their country, love for their family, an inclination toward rowdy celebration and an unexpected tenderness when it comes to the ladies in their lives. What's different is how they color these qualities, with a wider palette than they've ever used before.
They walked that line without a misstep. A stinging electric guitar lick and mellow electric piano on "Redneck As Me," old-school steel and fiddle on the romantic "One More," retro organ and front-porch banjo on "I'm Good," an electronic pulse punctuated by the ominous click of a gun being cocked on the title cut — The Lacs have widened their scopes but stayed focused on what they believe.
Which takes us back to the top: America has been through a lot recently. But all of the changes we've weathered have only sent us back toward the things that endure, the beliefs that anchor us and tie us together. The Lacs have always known that. That rings truer than ever throughout this American Rebelution.