JMax Productions
Yonder Mountain String Band, HANDMADE MOMENTS
Wed
January 16, 2019
8:00 pm
PST
(Doors:

7:00 pm

)
Midtown ,
51 Greenwood Ave, Bend, OR
(
map
)
All Ages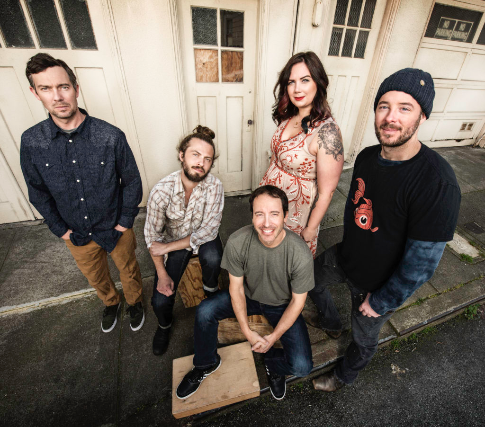 $25.00
Tickets available locally at Ranch Records (117 NW Oregon Ave)
Yonder Mountain String Band's first new album in two years, LOVE. AIN'T LOVE is undeniably the Colorado-based progressive bluegrass outfit's most surprising, creative, and yes, energetic studio excursion to date. Songs like "Chasing My Tail" and "Alison" are rooted in tradition but as current as tomorrow, animated by electrifying performance, vivid production, and the modernist power that has made Yonder one of the most popular live bands of their generation. Melding sophisticated songcraft, irrepressible spirit, and remarkable instrumental ability, LOVE. AIN'T LOVE is a testament to Yonder Mountain String Band's organic, dynamic, and intensely personal brand of contemporary bluegrass-fueled Americana.
"I think this is our best album yet," says Adam Aijala, guitarist.
Yonder founding members Aijala, banjo player Dave Johnston, and bassist Ben Kaufmann reconfigured Yonder Mountain String Band as a traditional bluegrass instrumental five-piece in 2014 with the recruitment of new players Allie Kral (violin) and Jacob Jolliff (mandolin). The reconstituted group debuted with 2015's acclaimed BLACK SHEEP, but truly gelled as they toured, the new players' personalities seamlessly blending and elevating the intrinsically tight Yonder sound. Yonder made certain to show off the current roster's growing strength with the 2017 release of MOUNTAIN TRACKS: VOLUME 6, the first installment in their hugely popular live recording series since 2008.
"This lineup just keeps getting better," Aijala says. "The more gigs you get under your belt, the better you get. Obviously. But the confidence I have in these individual musicians, I'm amazed at some of the places we go together on stage."
"When we were first starting, our creativity was rooted in rebelliousness. Now, there's a greater conscious awareness and attention to detail that we're bringing to our writing and recording. Our nature and instincts remain progressive. We're just doing it in a way that's sharper, more musical, and way more satisfying," says Ben Kaufmann.
With its melodic flair, expert technique, and forward-thinking fervor, LOVE. AIN'T LOVE is a strikingly assured and well-crafted manifestation of Yonder's matchless musical vision. Nearly two decades in, Yonder Mountain String Band is still utterly unto themselves, a one-of-a-kind, once-in-a-lifetime combo whose inventiveness, versatility, and sheer imagination shows no sign of winding down.
"We've talked about this," Aijala says, "and we all feel like we could play in Yonder until we can't play anymore. As long we still have new ideas, as long as we're still creating something that's fresh to us, I don't see any reason to stop."