JMax Productions
Philip H. Anselmo & The Illegals, Child Bite, Purification By Fire, Kut-Pile
Thu
November 8, 2018
8:00 pm
PST
(Doors:

7:00 pm

)
All Ages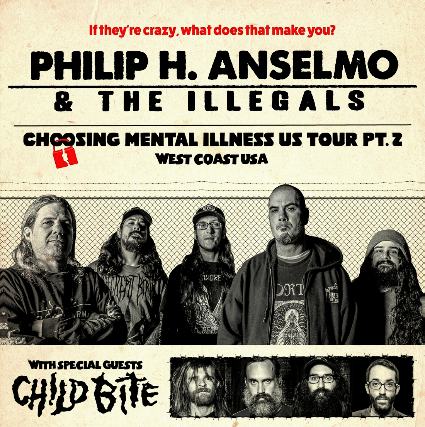 $20.00
Tickets are available locally at Recycled Records (S Virginia) and the Cargo box office (inside Whitney Peak).
Known primarily as the over the top, drill instructor-like frontman for heavy metal titans Pantera, singer Phil Anselmo is also the leader of several other similarly styled side projects. Born on June 30, 1968, in New Orleans, Louisiana, Anselmo developed an admiration for heavy metal as a teenager, leading to his fronting several local bands in the '80s. Legend has it that one night the members of Pantera (guitarist Dimebag Darrell, drummer Vinnie Paul, and drummer Rex Brown) happened to go to a club in Louisiana that Anselmo frequented. Although Pantera had already established a following and issued several albums on their own (1983's Metal Magic, 1984's Projects in the Jungle, and 1985's I Am the Night), the band had grown weary of their Spinal Tap-ish musical direction with then-singer Terry Glaze, resulting in the dismissal of their frontman and a reevaluation of their approach. Anselmo and Pantera hit it off, and soon he was welcomed in as their new singer.
The same year that Pantera's fifth studio album with Anselmo was issued, 2000's Reinventing the Steel, the singer began releasing albums with a plethora of side projects. Such projects included Necrophagia (2000's Holocausto de la Morte and Legacy of Horror, Gore and Sickness, plus 2001's Cannibal Holocaust), Viking Crown (2000's Innocence from Hell and 2001's Banished Rhythmic Hate), Superjoint Ritual (2002's Use Once and Destroy), a second Down release (2002's Down II), Christ Inversion (a self-titled release), an acoustic outfit with his wife Opal called Southern Isolation (a 2001 self-titled EP), and a solo project, Philip H. Anselmo & the Illegals (2013's Walk Through Exits Only and 2018's Choosing Mental Illness as a Virtue). As if his plate weren't full enough, Anselmo has even more on the horizon, including Eibon, Enoch, and Body & Blood, and is said to be included on the debut recording by the much rumored and delayed Nine Inch Nails side project Tapeworm. In addition to his side projects and his work with Pantera, Anselmo has lent his vocal talents to recordings by other artists, including Vision of Disorder's Imprint, Biohazard's Uncivilization, Tony Iommi's Iommi, Anthrax's Volume 8: The Threat Is Real, and A.C.'s 40 More Reasons to Hate Us, among others.