JMax Productions
Nekromantix, Messer Chups
Thu
October 25, 2018
9:00 pm
PDT
(Doors:

8:00 pm

)
Lost on Main ,
319 Main St., Chico, CA
(
map
)
Ages 21 and Up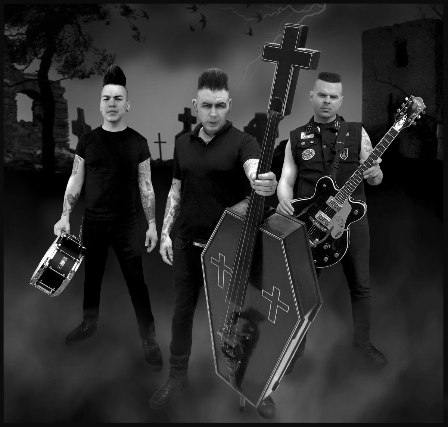 $15.00
Tickets available locally at Diamond W Western Wear (E 2nd St), Blaze N J's (W9th St) DownLo (Under Lost On Main)
Never self-serious while far from a joke at the same time, Nekromantix is a musical unearthing of the biggest themes from the greatest works of monster, zombie, vampire, werewolf and b-horror fiction; ripped from literature, comic book pages or classic celluloid. Nekromantix chases a darkly romantic muse with an even darker humor.
The Nekromantix catalog boasts enduring genre classics like the unapologetically hooky yet undeniably fierce "Who Killed the Cheerleader?" and "Gargoyles Over Copenhagen" alongside subversively sentimental cuts like "Haunted Cathouse" and "Subcultural Girl." There are echoes of rock n' roll's greats and punk rock icons alike, all with modern flair.
A Symphony of Wolf Tones & Ghost Notes broadens the Nekromantix legacy with expansive ambition that never sacrifices the trio's inherent grittiness, furiously stoking and reshaping the flames of the creative vision begun in Denmark with legendary labels like Nervous Records, through the band's master classes in punk n' roll albums stateside with Hellcat Records, the label cofounded by Tim Armstrong and Brett Gurewitz.
Armed with his signature coffin bass, chilling baritone, monstrous expressions and ten-stories-tall haircut, Kim Nekroman has earned tremendous respect, admiration and goodwill from a fiercely dedicated legion of hard-partiers, rabble-rousers, well-meaning degenerates, grease monkeys, outlaw bikers, nostalgic tastemakers and forward-thinking punks. It's a crew of supporters as diverse as the otherwise classic and timeless music the Danish-born California transplant has unleashed as leader of Nekromantix.
There are some bands whose sound, image and front person became synonymous with an entire subculture, whether as originators of a particular style, a crucial innovator among a handful of likeminded artists, or simply as the best embodiment of everything a specific style has to offer. Rock historians may debate who reigns supreme among Black Sabbath, Led Zeppelin and Deep Purple, but there's no denying they are all heavy metal titans. When someone says "Lemmy" or "Strummer" or "Blondie," certain feelings are immediately invoked. There's a palpable energy in the air among hardcore acolytes and culture mavens. It's a kind of iconic resonance that transcends boundaries.

To their dedicated army of supporters around the world and across every dimension, Nekromantix stands tall among the ghosts in rock n' roll's undead cemetery.