JMax Productions
Whitechapel, Chelsea Grin, Oceano, SLAUGHTER TO PREVAIL
Tue
December 4, 2018
7:30 pm
PST
(Doors:

7:00 pm

)
All Ages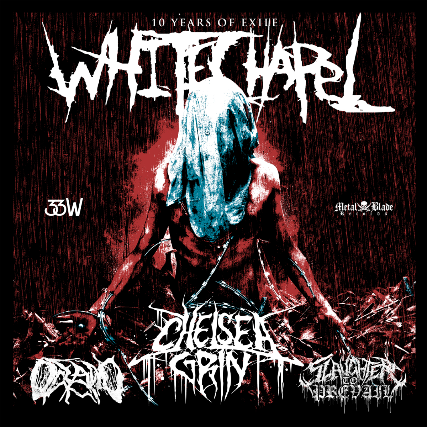 $18.00
Tickets available locally at Diamond W Western Wear (E 2nd St), Blaze N J's (W9th St) and Fusion Pit (Anderson Outlets)
Returning with the fifth full-length of their decimating career, there is no stopping the juggernaut that is Whitechapel. Our Endless War is the culmination of everything the Knoxville, Tennessee sextet have worked toward since their inception. A ruthlessly honed album that refuses to compromise on brutality, it is also by far their most streamlined, atmospheric, and emotionally powerful release, pushing every aspect of their sound to the next level. "The record grasps everything that we've done thus far," states guitarist Alex Wade. "It's got some of the elements from Whitechapel (2012), but also some from A New Era Of Corruption (2010) and This Is Exile (2008). It brings back the blastbeats and really aggressive sounding stuff from those earlier records, but it also has a lot of layers and some slower, more groove-oriented songs, which have become a big part of what we do."
Having progressed with every record, on Whitechapel the band took a stylistic leap forward, garnering a whole army of new fans and greater critical respect in the process. Looking back on the record Wade is grateful for the doors it kicked down, but refusing to ever be satisfied has served as a profound motivator in the band's evolution. "Whitechapel is a record that we all loved and put a lot of effort into, and I believe that was the beginning of us maturing our sound. But, two years later I feel that there were only four or five really good songs on there, while on Our Endless War I feel like every song is a great song. There's no filler, there's nothing there for the sake of it, and I stand behind everything we put into it." This determination is immediately apparent. Having started to "seriously" write in February of 2013, the album was a year in the making, the band letting the writing develop organically while putting everything under a microscope, working harder on perfecting every song than they ever had before.
With a lot of touring ahead of them, maintaining their hard working ethic that will see them whipping crowds into a frenzy the world over, there is arguably no metal band out there right now able to play to such diverse crowds as Whitechapel. Having previously drawn rabid crowds on both Warped Tour and Summer Slaughter, in 2013 they supported UK metalcore mob Asking Alexandria and label mates Gwar, causing a stir with both bands' audiences. "That we can play to a lot of different demographics is one of the things I'm most grateful for. We can play to the fourteen to eighteen year old Asking Alexandria crowd, and then we can play to the mid twenties to mid forties Gwar crowd. It's always been like that, and that's an amazing thing, because it strips us of the kind of limitations a lot of bands face. Whitechapel opened a lot of doors for us and we want to open a whole lot more with this new record. This is the best we've ever been, and we don't want to let anything stand in our way."