JMax Productions
Anti-Flag, Mourning Eyes, Cruel, Heterophobia
Thu
September 27, 2018
8:00 pm
PDT
(Doors:

7:00 pm

)
All Ages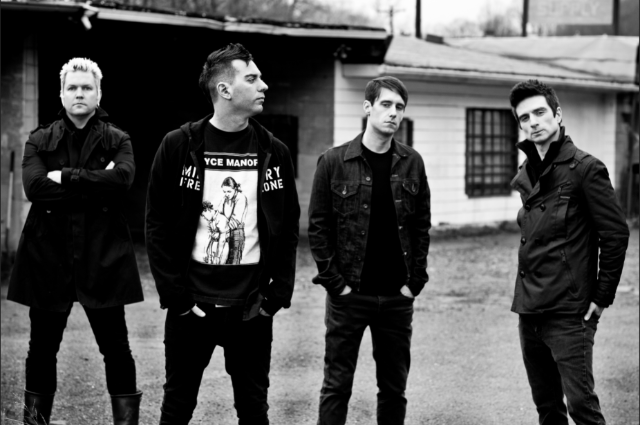 $18.00
Tickets are available locally at Recycled Records (S Virginia) and the Cargo box office (inside Whitney Peak).
Music bestows a voice upon the voiceless. It provides a mouthpiece for the unheard to be heard. It amplifies the cries of the downtrodden in the face of oppression and tyranny. It's the last line of dissent….
"Dissent is the highest form of patriotism." – Howard Zinn
Since unleashing their seminal 1996 debut Die for the Government, Anti-Flag has empowered and emboldened the listeners of two generations beset with a new millennium stricken by war, racial upheaval, and financial collapse. The Pittsburgh, PA quartet—Justin Sane [vocals], Chris#2 [bass, vocals], Chris Head [guitar, vocals], and Pat Thetic [drums]—has consistently embodied a timeless punk spirit over the course of nine influential offerings, including The Terror State, For Blood and Empire, and most recently, 2015's American Spring. The latter boasted appearances from icons such as Tom Morello and Tim Armstrong and yielded the anthem "Brandenburg Gate," which cracked 1.3 million Spotify streams and counting.
They've incinerated stages on tour alongside Rage Against The Machine, Sick of It All, Billy Talent, The Offspring, Rancid, and more in addition to festivals ranging from Coachella to the Vans Warped Tour. A cultural institution, they have spoken out on behalf of movements such as Occupy Together, Greenpeace, Sea Shepherd, and Amnesty International between launching their own label A-F and ANTIFest.
As the world changed again with the controversial 2016 presidential election, the time felt ripe for Anti-Flag's tenth and most definitive offering yet, American Fall [Spinefarm Records].
"We were on Warped Tour THIS summer," recalls Pat. "Three-to-five trans folks would come to the booth and say hello to us every day. These same marginalized kids were at the shows 20 years ago, but they were afraid to express themselves. The fact that they are NOW empowered to be who they really are is incredible…the fact that they know they are welcomed by our band and community is awesome, the same goes for so many others who are feeling alienated and they are receiving that message loud and clear."
In the end, American Fall does what Anti-Flag has always done—it inspires change.
"I want everybody to realize they're not alone," Chris#2 leaves off. "These conversations we're having are ones that others are having too. Four kids from Pittsburgh don't have all the answers, but we're looking out the same window and realizing that the color and the shape of things isn't what we want. However, we can band together with some likeminded individuals who feel the same way and turn it into the thing we want."
"After all this, won't you give me a smile." – Joe Strummer