JMax Productions
Dirty Heads, Just Loud
Sun
September 23, 2018
8:00 pm
PDT
(Doors:

7:00 pm

)
All Ages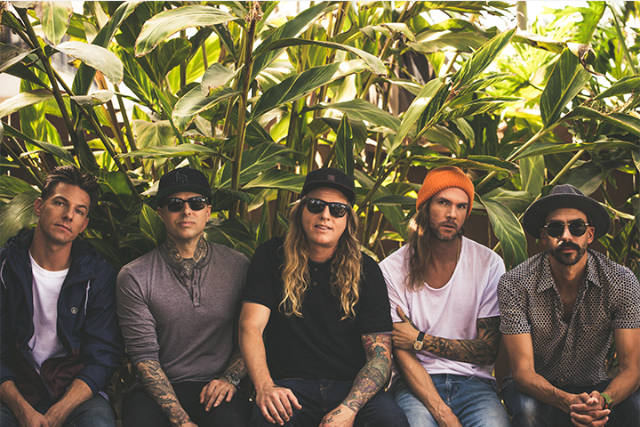 $30.00
Tickets available locally at Diamond W Western Wear (E 2nd St), Blaze N J's (W9th St) and Fusion Pit (Anderson Outlets)
After two decades spent chiseling their unique, multi-genre infused sound, Dirty Heads have finally come into their own. Since the release of their 2008 debut Any Port in a Storm, the five-piece band -- Jared Watson (vocals), Dustin "Duddy B" Bushnell (vocals/guitar), Jon Olazabal (percussion), Matt Ochoa (drums) and David Foral (bass) -- has consistently experimented with their sunny style, leaning heavily on reggae fused with hip-hop cornerstones and scaling back for more acoustic fare, darting between extremes. But it's with their fifth and self-titled album that the group has felt fully confident in a body of work, ready to bring their unique style to the masses.
"It's the most core Dirty Heads album we've done," explains Watson, who formed the collective with Bushnell in 1996. "One of the most important things about this album is the reason we self-titled it. This album has all of the elements that we've tried to play around with. We had to go through those other albums to really find out exactly who we are, where it was natural. Now, I just think our sound is better and more confident."
Recorded in Los Angeles over a period of four months, Dirty Heads marks a stylistic heel-turn for the Huntington Beach, Calif. natives, who enlisted a diverse team of hit-makers including: Da Internz (Rihanna, Nicki Minaj), Drew Pearson (Katy Perry, Zac Brown Band), David Kahne (Lana Del Rey, The Strokes), Jimmy Harry (Madonna, Diplo), Jonas Jeberg (Demi Lovato, Fifth Harmony), and a handful of others. The record spans lively tracks like reggae-bounced "Oxygen" to the instantly catchy sing-along "Too Cruel" and horn-blasted lead single "That's All I Need," the latter of which captures the nostalgia of carefree adolescence.
Dirty Heads comes in the wake of their most successful release to date, 2014's Sound of Change, which debuted at No. 1 on Billboard's Top Alternative Albums chart. This album is marked differently than its predecessors -- 2008's Any Port in a Storm, 2012's Cabin by the Sea and 2013's acoustic offering Home -- Phantoms of Summer, the former of which spawned the smash single "Lay Me Down" featuring Rome of Sublime with Rome that topped the Alternative Songs chart for 11 weeks.
With a solid fan-base already in place, Dirty Heads are focusing their sights on something they've been edging towards for years: breaking the mainstream. "We want our fans to love it, because we love what we do and we want to keep doing it," says Watson. "But this album for me, I cannot poke a hole in any of it. From front to back, it's really so phenomenal. I'm so confident in it that I want it to take Dirty Heads from the band that we are in America, worldwide."