JMax Productions
I Set My Friends On Fire, Annisokay, The Funeral Portrait, Our Last Of Days
Fri
August 3, 2018
8:00 pm
PDT
(Doors:

7:30 pm

)
Jub Jub's ,
71 S Wells Ave, Reno, NV
(
map
)
All Ages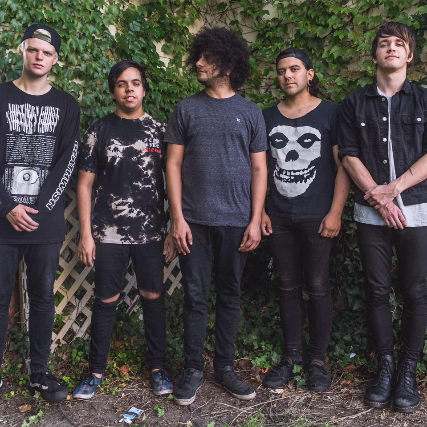 $13.00
Tickets are available locally at Recycled Records (S Virginia) or the Jub Jub's bar.
Fusing together older influences of emo/post hardcore with a little bit of funk thrown in, I Set My Friends On Fire aims to set themselves apart from other bands with their unique sound that the band describes as "evil funk".

'Pop Goes Punk' covers are everywhere nowadays, but back in 2008 I Set My Friends On Fire were one of the first to experiment with the concept on the track "Soulja Boy". High school seniors, Matt Mehana and Nabil Moo put the single on their Myspace as a joke and it went viral immediately. The response was so overwhelming that Myspace took down the band's page three times because they assumed the views were increasing so quickly because of being hacked to increase plays. The duo gave it one more try with a new page and would inevitably be the beginning of something special.

After multiple offers from different labels, the band signed with Epitaph Records and before graduation they were flown to make their Bamboozle debut. Their first album, "You Can't Spell Slaughter Without Laughter" (produced by Lee Dyess and Travis Richter of From First To Last) was released in late 2008 and hit the top of the iTunes chart and #29 on the Billboard Heatseekers. After two years of extensive touring, the band went back into the studio to record "Astral Rejection" (produced Dyess and Richter) which was a more hectic, heavier album. Before the release, Moo decided to leave the band and Mehana was left as the only original member.
I Set My Friends On Fire has spent extensive time on the road. The band was the most anticipated band on Warped Tour 2009 and was featured on the tour in 2011. Their impressive tour history has included international shows in Europe, Russia, Canada, U.K, Australia as well as all over the United States. Other notable festivals include South By So What, UnSilent Night and Never Say Never Festival. I Set My Friends On Fire have shared the stage with bands like Attack Attack, Cash Cash, We Came As Romans, Of Mice and Men, Dance Gavin Dance, Silverstein, Sleeping With Sirens and many more.

2015 brought new changes to the band. After using different touring musicians, Mehana announced the band was no longer just him and brought in long time friends to round out the lineup. Guitarists Nate Blasdell (The Bunny, The Bear) and Jonathan Rosell, Bassist Joe Mosey (Lights Out Paris) and Drummer Josh Miller (The Last Ten Seconds of Life) would then go on to play over 170 shows, in 123 cities, through 24 countries in 250 days. This included the U.K, mainland Europe, Russia, Australia, Canada, and numerous U.S tours. After relentless touring, Miller and Mosey decided to leave the band. Chris Thompson and Connor Mitchener joined the band solidifying the current lineup and announced the release of the 3rd album, "Caterpillar Sex" (produced by Mehana) was delayed indefinitely as the band was constantly touring.