JMax Productions
DirtySnatcha, PIERCE, CHOMPPA, PANDO b2b RAMO, WOKA
Fri
December 15, 2023
8:00 pm
PST
(Doors:

8:00 pm

)
Ages 18 and Up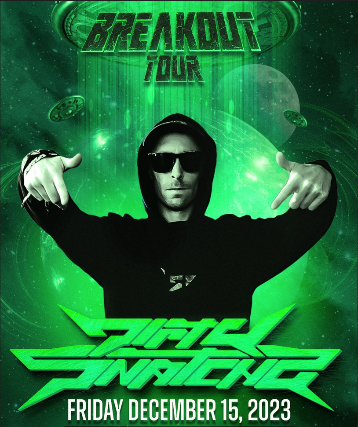 $15.00 - $20.00
Tickets available locally at Blaze N J's, Diamond W Western Wear
Bio:
DirtySnatcha is a highly skilled electronic music producer and DJ renowned for his distinctive sound and energetic performances. Within the realm of EDM, he has gained widespread recognition by producing bass-centric tracks that blend elements from dubstep, wobble bass, and various other bass music genres. His compositions frequently feature powerful rhythms, assertive basslines, and intricate soundscapes, captivating a devoted global fan base.
Throughout his career, DirtySnatcha has consistently delivered a series of successful singles and EPs, showcasing his unique style and exceptional production skills. Several of his most acclaimed tracks have gained the support of prominent artists and found a place in their sets at renowned festivals and shows.
Despite his success, DirtySnatcha remains grounded and retains a deep connection with his fan base. He actively engages with his followers across various social media platforms and routinely participates in interactive experiences during live performances. He will always take the time to say hi and chat with fans before and after a show.
DirtySnatcha's unwavering dedication to his craft and relentless pursuit of innovation within the music production world have established himself as a prominent figure within the bass music community. As he continues to push artistic boundaries and explore new territories, his fans eagerly anticipate the exciting musical journey that lies ahead.