JMax Productions
Moonshine Bandits, Who TF is Justin Time?, Dusty Leigh, Good Ol' Boyz
Thu
July 20, 2023
10:00 pm
PDT
(Doors:

9:00 pm

)
Blu Nightclub @ Bally's Lake Tahoe ,
55 US Highway 50, Stateline, NV
(
map
)
Ages 21 and Up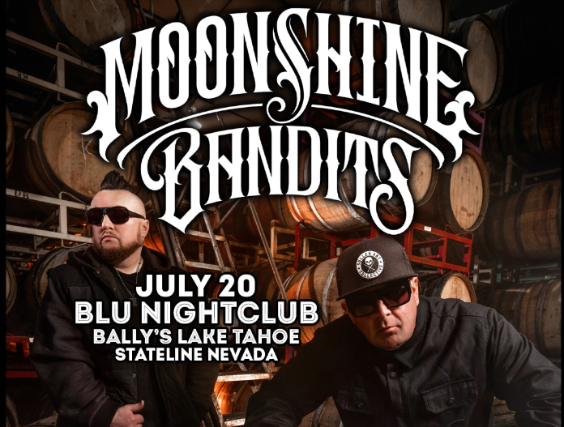 $25.00
Tickets available locally at Bally's Box Office & Recycled Records(Reno)
Bio:
Backwoods bravado, patriot's pride, country soul, keg-thumping beats — these are the qualities that Moonshine Bandits have championed since they began their journey. Armed with a hybrid arsenal of country and hip hop fusion, the California duo of Dusty 'Tex' Dahlgren and Brett 'Bird' Brooks are back with the grittiest, spirited and distinctly
grass-roots
release of their sixteen year campaign of musical badassery –
"Gold Rush."
If you ain't about this life then you ain't about shit." – From the Track 'Mud Money' on the Moonshine Bandits latest release 'Gold Rush"'
Since their formation in Los Banos California in 2003 the Moonshine Bandits have continued a campaign of crossover genre-bending musical mayhem that appeals to the eclectic, color-outside-the-lines tastes of listeners, aka The Shiners, and they fiercely refuse to have their tastes confined and filed into categories. "Our musical style has always been full throttle and in your face," says Moonshine Bandit Tex. Just like the rumrunners, bootleggers, smugglers and outlaws of old – the Moonshine Bandits provide a supply of the goods for the demand, defying the mandates and trends of mainstream pop culture.

And now the Moonshine Bandits have hit the proverbial motherlode with the release of Gold Rush on their very own record label MSB. Taking its inspiration from all that embodied the struggles and successes of America's extraordinary era when dreams were being made while hunting for that elusive precious gem. It wasn't entirely about the dollar sign though. The Gold Rush was far more dynamic in terms of the greater meaning and effect it had on all those who took part. Big or small, bust or windfall, for many people the Gold Rush ultimately provided the experience of building a new life in a wild place that had a code of its own.

Long before people figured out country and rap had a lot in common, the Moonshine Bandits released their genre-blending album, "Whiskey & Women," and took the world of outlaw music by storm. The group's blue-collar work ethic and unwavering persistence has led to over 60 million views on the ShinerTV YouTube channel – collectively over 80 million views on YouTube – while their video for "My Kind of Country" peaked at #1 on CMT Pure. The Bandits also charted Billboard simultaneously with a top 10 in Rap and a top 20 in Country Music and have been Recognized by Rolling Stone Magazine, CMT, Youtube Honors, MTV, AOL THE BOOT, YAHOO, and the list goes on. Connecting with fans on all levels, Moonshine Bandits have built a solid "Shiner Nation" of loyal fans, started their own 501 (c) 3 non-profit organization known as Operation Packing Company, Inc. that specializes in sending supplies to our Troops Overseas, Beef Jerky and legal Moonshine. The Bandits earned a 2018 Telly Award for their "Take This Job" music video featuring David Allan Coe.