JMax Productions
Demun Jones, Sam Grow
Wed
April 19, 2023
7:00 pm
PDT
(Doors:

6:00 pm

)
Ages 18 and Up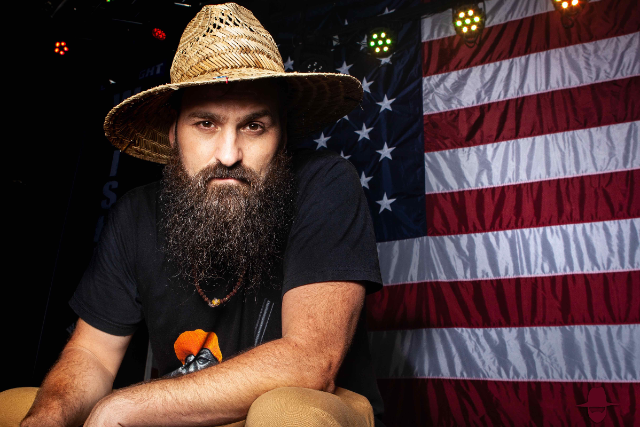 $20.00
Tickets available locally at Recycled Records.
Bio:
DEMUN JONES has always had a way of keeping it real when it comes to the music he has written, recorded and performed throughout his career, but, that said, JONES COUNTY might well be the most genuine collection of songs that represents who the Georgia native is and certainly illustrates the place where he's lived his entire life.
Asked how the songs for his forthcoming solo project came about, Demun said, "I went out in my front yard and imagined what are they doing? What are they thinking? What are they going to do? What do I see?"
Life in Jones County, which is just north of Macon, is southern and some, including the Jones family, will say they're rednecks. They drive trucks. They fish and hunt. They like keeping things simple—sort of a what-you-see is what-you-get type of place. All the same, Jones County is what you hear and Demun is hoping people who are from there will respect and love his latest collection of 12 songs, while people who aren't from around those parts will be "captivated by it and want to listen to it."
Demun – a nickname he earned at a young age because he was aggressive and energetic – was 10 years old when he was transfixed by the immergence of N.W.A. and how they represented their own hometown. He's never forgotten how that seminal album affected a southern boy down in Georgia. He's always wanted to do the same for Jones County.
"I've had inspirations that cover the whole gamut of genres," Demun said. His musical influences are not all southern or country.
His oldest brother Chris introduced him to Led Zeppelin along with AC-DC and Black Sabbath, while his mother Cheryl introduced him to the likes of Marvin Gaye and other Motown acts, including James Brown and Michael Jackson. A ranch owned by Otis Redding is right down the road from where Jones grew up the son of a lifelong brick mason worker. He was the third of six children, who spent their hot summer days playing football in the front yard and frog hunting in a creek behind a hayfield that surrounded their modest home.
His uncles introduced him to the southern rock soundscape of The Allman Brothers Band and Lynyrd Skynyrd. Back then Demun wasn't a singer, but he knew at a young age he wanted to do something musical. He started listening to hip hop and rap and was intrigued by breakdancing. That's when he heard N.W.A. That album was about Compton, for Compton and the whole world took notice.
It was a musical documentary – sort of a bird's eye view of life – that Demun wanted to portray in his own autobiographical song selection for Jones County.
"It gave me some hope that I could make my own music," said Demun, who wrote his first song when he was 15. "It took a long time for me to realize I could make country music without singing the whole time and still be for the country person."
And that is exactly what Demun, whose vocal delivery is as intense as it is distinct, set out to accomplish with Jones County.