JMax Productions
Borgore, Hue Hazey, Deezy!, Collider
Sat
September 24, 2022
8:00 pm
PDT
(Doors:

8:00 pm

)
Ages 18 and Up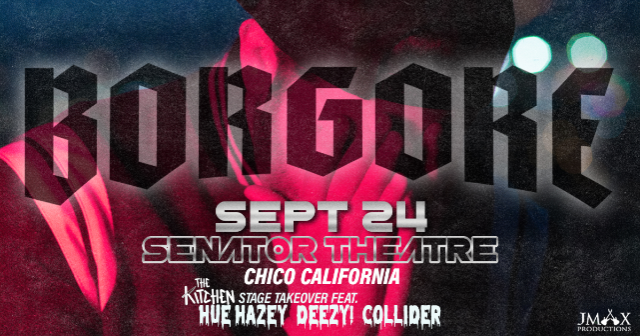 $23.50
Tickets available locally at Blaze N J's, Diamond W Western Wear & Fusion Pit(Anderson Outlets
Borgore is one of electronic music's most popular and polarizing artists. Called the enfant terrible of bass culture and happy to name himself the man who "ruined dubstep," the LA-based, Tel Aviv-born producer's genre-destroying "gorestep" and maniacal live shows have made him an iconic character in the modern bass scene. His upcoming release
#NEWGOREORDER
, released in July 2014 on his own Buygore record label through Steve Aoki's Dim Mak Records, will certainly only bring that fame to new heights. Noisey describes the first single "Ratchet" as "a devastating cock-trap breakdown that rattles both your teeth and sense of self before ricocheting back to the perverse eye of the storm." The suggestion that the song, which rewrites the children's classic "If You're Happy And You Know It" into a wobbling, dirty, bass anthem will "destroy your childhood" is one that Borgore, eternal provocateur, heartily enjoys.
Borgore's introduction to the bass-driven dubstep genre came one night in a Tel Aviv indie club where the DJ was spinning what Borgore refers to as "all the Croydon guys" -- Skream, Benga, Mala, Coki, etc. Borgore describes that night as life-changing; "I loved drum and bass, trance, and hip hop... for me, dubstep brought all of that together." Borgore immediately began making his own tracks, which he uploaded to the internet accompanied by simple videos. His early work went "all viral" as he consistently gained bigger play counts than any of his more established contemporaries.
#NEWGOREORDER
marks Borgore's debut, full studio album, and acts as a call to arms for a fully turnt up new era. To set the album's tone, Borgore enlisted the incomparable Malcom McDowell to voice the
#NEWGOREORDER
manifesto on the LP's opening track. Fuzzy boots, political corruption, fake producers, the never-ending search for knowledge along with the lack of cell phone service at festivals are all touched upon in this manifesto, a halfway tongue-in-cheek declaration of what Borgore envisions as "a better place..." "Fame" takes listeners deep into the depths of the Hollywood party scene, with Borgore spitting about both his participation in and disgust with the vapid landscape surrounding him.
Borgore has evolved into a genre-bending composer who combines elements of main room electro house, trap and dubstep with original vocals to create a signature sound. His popularity is not beholden to any individual style, genre, or current music fad; rather to his unique talent as a lyricist, musician, producer and provocateur. By constantly challenging his fans & the musical status-quo, Borgore continues down his path towards the #NEWGOREORDER.