JMax Productions
CARNIFEX with SPITE, OCEANO, LEFT TO SUFFER, CROWN MAGNETAR, ANTAPEX
Mon
September 26, 2022
5:30 pm
PDT
(Doors:

5:00 pm

)
All Ages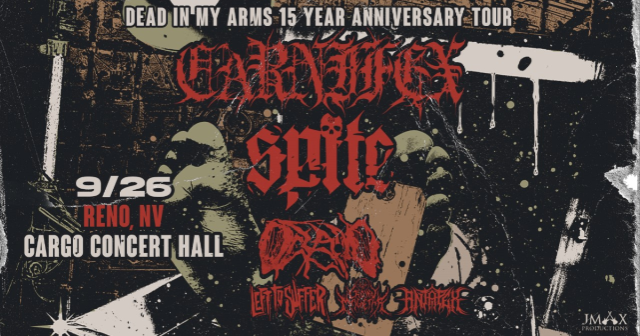 $23.50
Tickets available locally at Recycled Records.
Bio:
A punishing deathcore group based out of San Diego, Carnifex's uncompromising blend of traditional death metal and metallic hardcore is built on a foundation forged by severe metal luminaries like Slayer, Carcass, and In Flames.
Emerging in 2005, Carnifex issued a pair of well-received albums before lurching out from the underground with their uncompromising third studio effort, 2010's Hell Chose Me. Subsequent outings like Die Without Hope, World War X, and Graveside Confessions continued to mine the depths of extreme metal, adding symphonic black metal to their already formidable sonic arsenal.
Carnifex formed in Fallbrook, California, in 2005 around the talents of Scott Lewis (vocals), Shawn Cameron (drums), Rick James (guitar), and Kevin Vargas (bass). After the band released a self-titled demo through Enclave Records, James and Vargas departed and were replaced by bassist Steve McMahon and guitarist Travis Whiting, resulting in the 2006 EP Love Lies in Ashes. The group inked a deal with This City is Burning Records, in 2007 and released their full-length debut, Dead in My Arms, during which the band recruited a second guitar player, Jake Anderson, for a tour that included dates with Whitechapel and Emmure.
The following year, Carnifex signed with Victory Records and endured another lineup change with the departure of McMahon and Anderson and the addition of Fred Calderon and Ryan Gudmunds. The group's sophomore outing, 2008's The Diseased and the Poisoned, peaked at number 19 on the Billboard Heatseekers chart, while their third release, 2009's Hell Chose Me, sold over 3,000 copies in its very first week. The well-received Until I Feel Nothing arrived in 2011, followed in 2014 by their critically acclaimed fifth long-player, Die Without Hope, issued by Nuclear Blast. 2016's lumbering Slow Death saw the band refining their sound, expanding on some of the classical and electronic elements that began creeping in on Die Without Hope. In 2019, Carnifex released World War X, which marked a return to the kinetic deathcore attack of their earlier work while maintaining an icy sheen of blackened symphonic metal. Two years later the band returned with punishing old-school blackened deathcore effort, Graveside Confessions.