JMax Productions
The Bay Strikes Back Tour with Testament Exodus & Death Angel
Fri
October 14, 2022
6:50 pm
PDT
(Doors:

6:00 pm

)
All Ages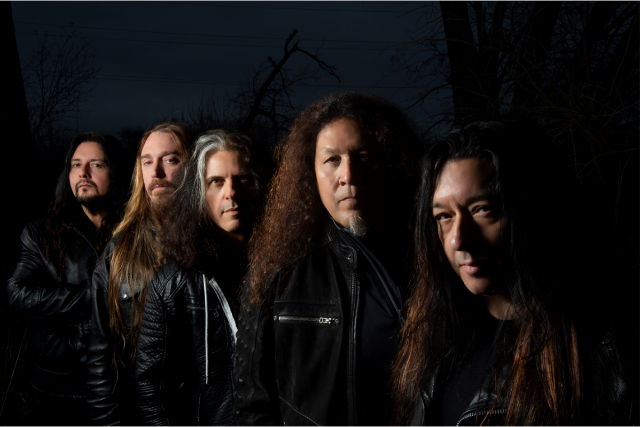 All Ages. Drugs/weapons will be confiscated. We will be following the state mandates in regards to Covid - please check the venue website for updates. No refunds.
The time has arrived for TESTAMENT to unleash new thunder to the masses and reveal their thirteenth studio album: Titans OF Creation. Just as the elements of this planet thrive within all living creatures, each musician in TESTAMENT represents a necessary component of this latest musical endeavour. Still filled with a massive and unstoppable energy since their last release, TESTAMENT has taken their style to the next level and present an album that is loyal to the roots of traditional thrash metal while still bringing alluring, brilliant, and progressive ingredients to the table. Bass is
showcased, new vocals are introduced, and as expected, the guitarwork of Peterson and Skolnick is greatly complex and mesmerizing.
Eliran Kantor stepped up once again to create a new piece of artwork for the cover of this release. His classic, almost Renaissance style of painting melds beautifully with the ancient, psychological, and enlightened subject matter of the songs. Three monstrous titans stand in the place where the planets are formed. One pours molding liquid which the others hammer into human DNA, twisting and turning into the ring of a newborn planet. Each titan has the flame of a dying star burning in their chest; the
origin of the atoms making up the bodies that are bubbling and boiling on the curves of the spiraling helix.
Titans OF Creation has many moods and material contained within; all of which somehow tie into a common philosophy of creation and its necessary counterpart: destruction. "Children Of The Next Level" smashes through the gates as the opening track with a flood of sound that prepares the listener for an abundance of violent thrash. Meanwhile, the lyrics rage about the outrageous philosophies of the Heaven's Gate cult (founded in 1974).
TESTAMENT's process of creation has evolved and progressed yet they've remained steadfast over the course of literal decades. While always managing to present the genuine aspects of thrash metal that solidify their existence, they spread into unique horizons through developing crisp and fascinating sounds.