JMax Productions
Tech N9ne's Strange New World Tour 2021 ft. Rittz, Krizz Kaliko, King Iso, Maez301 & Chandler P, and Jehry Robinson
Tue
October 12, 2021
8:00 pm
PDT
(Doors:

7:00 pm

)
Midtown ,
51 Greenwood Ave , Bend, OR
(
map
)
All Ages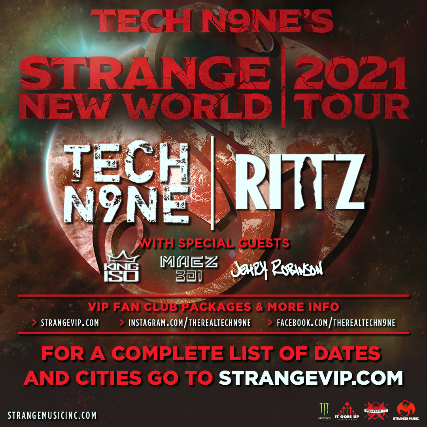 $30.00
Tickets available locally at Ranch Records & CannaVida.

***All ORIGINAL TICKETS FROM APRIL 18th DATE WILL BE HONORED***

While crafting what would be one of the most important albums of his career, Tech N9ne thought back to some of his early material. Before Strange Music became the No. 1 independent rap music label, the Kansas City rapper released The Calm Before The Storm. The acclaimed collection included songs that hinted at the type of artist he would become, from the conceptually rich "Questions" to the devilishly clever "Mitch Bade."

So for The Storm, Tech N9ne wanted to revisit and build upon his musical foundation. "I knew if I named it The Storm, it would push me to do the best music I've ever done," Tech N9ne explains. "I'm coming off of Special Effects, which featured songs with Eminem, Krizz Kaliko, 2 Chainz, B.o.B and T.I. But it's not just the features. It was a big record, period. I just couldn't come with a title that wasn't going to push me. It actually pushed me to do some damn good music, man."

The resulting The Storm features Tech N9ne delivering 20 stellar songs that fit into three sonic worlds. The Storm kicks off with the "Kingdom" section, a showcase for the rapper's narcissistic side. He then travels to "Clown Town," which finds him at his darkest. The set closes with the "G. Zone," a nod to the gangster side of his personality.

For his own work, Tech N9ne has a high standard. "I have to rap against Tech N9ne every time I do a record," he says. "And that's hard to do." Tech N9ne has been doing just that since he emerged in the mid-1990s. Subsequently, the visionary rapper has become as one of the genre's most prolific and acclaimed artists. He and business partner Travis O'Guin have built Strange Music into the industry standard with robust music, touring and merchandise components. Even though Strange Music remains fiercely independent, Tech N9ne still enjoys major label level success. He earned his second and third gold certifications in 2016 for his "Fragile" and "Hood Go Crazy" singles, testaments to O'Guin's and his dedication to the company. "Reinvest, reinvest, reinvest," Tech N9ne says. "That's how you build. That's how we built this empire."

As Strange Music grew into a music industry force, it developed a reputation over the last decade-plus as one of the only reliable businesses in the field. All of that made the The Storm so striking to Tech N9ne's fans and Tech N9ne himself, but the workload is not easy. "It's hard, but I make sure that I have some happiness around me at all times" Tech says.

Revisiting his roots and overcoming adversity helped shape The Storm, Tech N9ne's most powerful musical moment. Brace yourself.