JMax Productions
The Glorious Sons, Des Rocs, Matchstick Skeletons
Sun
February 16, 2020
8:00 pm
PST
(Doors:

7:00 pm

)
All Ages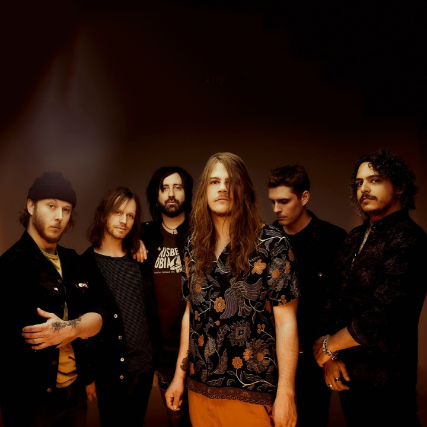 $22.50
Tickets are available locally at Recycled Records, The Melting Pot World Emporium & Smoke Shop and the Cargo box office (inside Whitney Peak).
The Glorious Sons were right in the thick of a wild and triumphant arena tour when they realized it was time to record their next album.
"There was an energy surrounding the band at that point that I'd never experienced before," says frontman Brett Emmons. "We felt this mania, almost like we were invincible or something. I didn't know if it was healthy, but I did know that we needed to capitalize on it and carry that momentum straight back into the studio with us."
The resulting record, 'A War On Everything,' is The Glorious Sons' most exhilarating release yet, a taut, timeless blast of rock and roll that marries confident swagger with penetrating insight and reckless abandon. Produced by Frederik Thaae (Kate Nash, Atlas Genius) and recorded in the band's hometown of Kingston, Ontario, the album is both reflective and raucous, meditating on materialism and meaning in the modern age as it grapples with love and loneliness, purpose and perseverance, anxiety and alienation. The arrangements are suitably eclectic and wide-ranging to match, hinting at the classics while forging a distinctly 21st century sound that veers from explosive, radio-ready bombast one moment to tender, fingerpicked intimacy the next, always with just a hint of danger and darkness lurking right beneath the surface. Broad as its sonic palette is, A War On Everything still manages to retain a deliberate sense of cohesion throughout, a feat accomplished in no small part thanks to The Glorious Sons' unwavering commitment to grit, guts, and honesty in everything they do.

Life and death are often the stakes in Emmons' writing, and his characters frequently find themselves questioning the meaning of each. The narrators of the ragged "Wild Eyes" and pulsating "Kick Them Wicked Things" both take hard, unflinching looks at their lives in the mirror, while the protagonists in the sinister "One More Summer" and darkly humorous "A Funny Thing Happened" grapple with surrendering to their own worst instincts, and the subjects of the melancholy title track and dreamy "Pink Motel" contemplate the ways our society's insatiable appetite for material possessions has left us emotionally stunted. Perhaps no track sums up the record's philosophy better than the anthemic "Kingdom In My Heart," though, which finds Emmons proudly declaring, "You can build your kingdom in my heart if you want / Life will rip us to pieces, but we'll just laugh it off."

In the end, there may always be conflict brewing inside of us, but with A War On Everything, The Glorious Sons offer a potent reminder that there's always love brewing, too.