Senator Theatre
517 Main Street, Chico, CA
Wed
September 27, 2017
8:00 pm
PDT
(

7:00 pm

DOORS)
JMax Productions
Jimmy Eat World, Man With A Mission
$27.50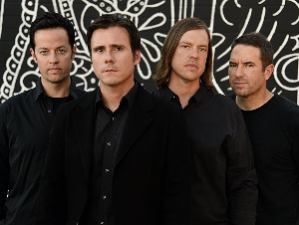 Tickets available locally at Diamond W Western Wear (E 2nd St), Blaze N J's (W9th St) and Fusion Pit (Anderson Outlets)
Jimmy Eat World formed in February 1994 in the Phoenix suburb of Mesa, Arizona. Jim Adkins (vocals/guitar) and Zach Lind (drums) met while attending Mountain View High School; years of playing in local bands had also introduced them to locals Tom Linton (guitar/vocals) and Mitch Porter (bass). The four musicians joined forces and derived the band's moniker from an argument between Linton's younger brothers, Ed and Jimmy. The two siblings were prone to fighting, with the heavyset Jimmy usually emerging as the victor. One day, a revengeful Ed resorted to drawing a picture of his heavyset older brother shoving the entire world into his mouth. The caption "Jimmy Eat World" was printed beneath, and the band deemed it a perfect fit. Citing influences like Rocket from the Crypt, early Def Leppard, the Jesus and Mary Chain, Fugazi, and the Velvet Underground, Jimmy Eat World outfitted themselves as a punk rock act and began playing small shows in the Phoenix valley.
Over the course of 1994 and early 1995, Jimmy Eat World released several EPs and singles on Wooden Blue Records, an imprint based in the nearby town of Tempe. Limited-edition pressings of "One, Two, Three, Four," "Back from the Dead Mother Fucker," and split EPs with Christie Front Drive, Emery, and Blueprint would later run out of print, as would the band's self-titled debut album. The band's audience was steadily growing, and Capitol Records responded by signing Jimmy Eat World in mid-1995, when bandleaders Adkins and Linton were only 19 years old. Porter soon exited the group; Linton's best mate since seventh grade, bassist Rick Burch, was enlisted as a replacement, and the band marked their major debut with the release of 1996's Static Prevails.
In 2010, the band issued their seventh album Invented (Dine Alone), which saw the return of Trombino as producer. This release marked the first instance since their self-titled debut with original vocalist Linton taking over primary vocal duty (on "Action Needs an Audience"). Singer/songwriter Courtney Marie Andrews provided backing vocals for a handful of tracks on Invented and joined the band on tour. Damage (RCA Records) arrived in 2013, this time with Alain Johannes (Queens of the Stone Age, No Doubt) at the helm. The next year, the band took to the road once again to celebrate another milestone: the ten-year anniversary of Futures. The band's ninth album landed in late 2016. Produced by Justin Meldal-Johnsen (Nine Inch Nails, Paramore), Integrity Blues featured the singles "Get Right" and "Sure and Certain."