Jub Jub's
71 S Wells Ave, Reno, NV
Tue
September 5, 2017
7:00 pm
PDT
(

6:00 pm

DOORS)
JMax Productions
THY ART IS MURDER, DECAPITATED, Fallujah, Ghost Bath
$17.00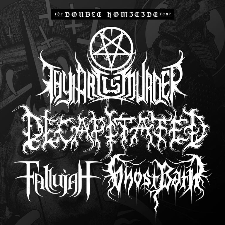 Tickets are available locally at Recycled Records (S Virginia) or the Jub Jub's bar.
Rising from the unhallowed wastes of Western Sydney, extreme metal outfit Thy Art Is Murder have carved a trail of bloody mayhem since their inception in 2006. With an acclaimed EP and debut album in Infinite Death and The Adversary to their name, the band have traversed the highways and autobahns of Australia, the UK and Europe on a relentless crusade to destroy every venue and audience they can with like minded peers in a who's who of heavy metal.

2012 brings a new ritual offering of darkness from the five piece. Simply titled Hate, the band's second full length is the pointed result of Thy Art Is Murder's growing dissatisfaction with all aspects of modern life - political, religious, social and environmental - everyone is to blame. Fusing the blasting technicality of metal luminaries The Black Dahlia Murder with thunderous breakdowns and the intensity born of their nascent hometown scene; the blackened grandeur of Behemoth and the pit churning groove of Tampa originators Morbid Angel and Cannibal Corpse, the furious musical arrangements provide a bloody canvas for vocalist CJ McMahon's outpourings of bile.

No strangers to stoking controversy and criticism, the band have not toned down their art for the sake of palatability and have introduced a morose melodicism into their maelstrom - the rumination before pulling the trigger. With their best work to date ready to be unleashed on an unsuspecting world, Thy Art Is Murder will once again take to the road to unleash the Hate with one simple message - get in the pit or get out of the way.
-DECAPITATED Bio-
DECAPITATED As a Teenage Death Metal act DECAPITATED averaged an age of just 17 by the time of their debut album but incredibly drummer Vitek was a mere twelve years old upon their formation in 1996. Both guitarist Vogg and bassist Martin also held down membership of Black Metal act LUX OCCULTA . In 1997 the trio of vocalist Sauron, guitarist Vogg and Vitek added the 13 year old bassist Martin. DECAPITATED, hailing from Krosno, debuted with the demos Cemeteral Gardens in 1997 and 1998 "The Eye Of Horus". Further exposure was garnered by the inclusion of tracks on the 2000 Relapse Records 'Polish Assault' compilation alongside YATTERING , LOST SOUL and DAMNABLE.
The band united with headliners FEAR FACTORY and SUFFOCATION for further North American shows in November. The band united with Nancy's PHAZM for extensive European touring throughout February 2007. In May the group toured throughout Australia and New Zeeland supporting NILE . The band's next tour outing was to be the 'Summer Slaughter' trek across the USA throughout June and July, seeing NECROPHAGIST headlining on a mammoth package billing with BENEATH THE MASSACRE , CEPHALIC CARNAGE , CATTLE DECAPITATION , THE FACELESS , AS BLOOD RUNS BLACK , ARSIS and ION DISSONANCE . The band is ready for next tour attacks! Asia, North and South America and Europe!!!