Jub Jub's
71 S Wells Ave, Reno, NV
Mon
April 24, 2017
8:00 pm
PDT
(

7:30 pm

DOORS)
104.1 KRZQ Presents a "Lo-Dough Show" with:
104.1 KRZQ Presents a "Lo-Dough Show" with: MISSIO, Cemetery Sun & The Electric
$10.41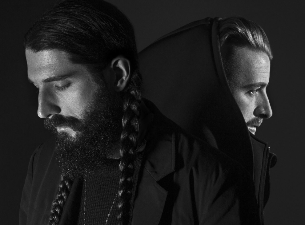 Tickets available locally at Recycled Records (S Virginia) and Jub Jubs (S Wells).
- MISSIO Biography -
Austin, Texas' MISSIO is an electronic-duo known for their dark, emotive pop. Formed in 2014, MISSIO features singer/songwriter Matthew Brue and producer/instrumentalist David Butler. Initially, the project began as an outlet for Brue's solo material. However, after he invited Butler to collaborate on a few songs, they decided to move forward together. Recording in Butler's converted garage/home studio, they began sculpting their brooding, anthemic sound; releasing such tracks as "I Don't Even Care About You," "I Run to You," and "Can I Exist?" By the end of 2015, they had made their debut at SXSW and garnered support slots alongside acts like SAFIA, K. Flay, and others. In 2017, they delivered the single "Middle Fingers" and signed a recording contract with RCA Records.
- Cemetery Sun Biography -
Extremes define life. There's good and bad, day and night, and dark and light. The fun happens in the middle.
Sacramento, CA quintet Cemetery Sun—Josh Doty [singer], Austen Butler [drummer], Elliot Polokoff [guitarist, producer], Jesse Mancillas [lead guitar] and Matt Scarpelli [bassist]—thrive on merging those extremes. The group's name nods to their alchemical mixture of alternative, pop, r&b, and even a little electro, yielding a musical concoction that's as irresistible as it is inimitable.
"Cemetery Sun is where the darkness meets the light," exclaims Josh. "You might be in a dark place, but you see that light and gravitate towards it. The name meant something to us, because that's exactly what we would be doing with this band. It also sounds like some shit Batman would say," he laughs.
Dark Knight-worthy monikers aside, the musicians first came together in 2013. Knowing each other from the same local scene, synergy proved instantaneous. They began to perform regionally and build a buzz in Northern California. Instead of touring exhaustingly, as most burgeoning acts do, they hit the studio—hard. With Elliot serving as an "in-house" producer, the guys penned nearly forty songs, honing their chops in the process.
"This is the kind of band we all dreamed of being in," Josh leaves off. "It's a mixture of so many things. It's nostalgic in a lot of ways. There are emo and alternative vibes. At the same time, it wouldn't be out of place in the club. It's who we are."