JMax Productions
Within The Ruins, Aversions Crown, Enterprise Earth, Currents, Condemned Existence
Wed
November 8, 2017
6:30 pm
PST
(Doors:

6:00 pm

)
Jub Jub's ,
71 S Wells Ave, Reno, NV
(
map
)
All Ages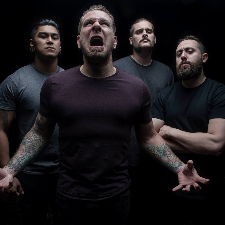 $13.00
Tickets are available locally at Recycled Records (S Virginia) or the Jub Jub's bar.
Who says a band needs to disappear for years at a time between albums? Pantera dropped a classic album every other year from 1990 to 1996. The late Chuck Schuldiner unleashed seven classic Death albums in the span of just over ten years. So when a band hits the kind of creative stride, chemistry and metallic momentum WITHIN THE RUINS tapped into with last year's breakthrough album they'd be fools to slow down now.

Within The Ruins wasted no time in crafting a new career-defining landmark, Phenomena. The band's new album is the next step forward from Elite, further jettisoning all but the best components of the oft-maligned "deathcore" genre to reveal a band whose all out assault of heaviness won't be confined by genre. The band shreds with the best of them of course, maintaining a place next to Between The Buried And Me and The Faceless, but the new album is even more about songs than scales.
Elite established Massachusetts' finest as frontrunners in the world of extreme metal, putting the hardworking group on the Billboard 200 and doubling the first week sales of their previous record, Invade (2010). Within The Ruins were once voted onto Summer Slaughter. Now they return, three years later, victorious, joining a 2014 lineup topped by death metal legends Morbid Angel. This is all hot on the heels of a tour with Whitechapel and a triumphant New England Metal and Hardcore Festival homecoming.

Born and bred in the same heavy metal rich Northeast soil as New Wave Of American Heavy Metal progenitors Killswitch Engage, All That Remains, Unearth and Shadows Fall and weaned on the dark sounds of classic death metal, the technical melodicism of Scandinavia and the precision staccato crunch of Meshuggah, Within The Ruins have busted their collective ass to carve out a unique identity for themselves from those ingredients and have succeeded like never before with this year's Phenomena.

"There continue to be tons of new fans for us to make," declares Cocchi. "There's a ton of people who haven't heard of us. One common thing to overcome in this genre is that people move on too quickly. We are still trying to progress and trying to bring something new to the table with every album. I believe that can always be done, even if it doesn't always happen with every band. Hopefully people can see that with us."

The fans wholeheartedly embraced Elite. Considering how much Phenomena takes Within The Ruins' music to the next level, there's no limit to how far this band can go.