JMax Productions
THE EXPANDERS, Iya Terra, For Peace Band
Tue
October 17, 2017
9:00 pm
PDT
(Doors:

8:30 pm

)
Lost on Main ,
319 Main St., Chico, CA
(
map
)
Ages 21 and Up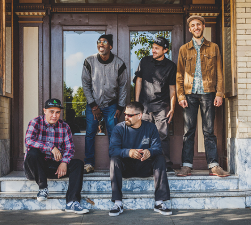 $13.00
Tickets available locally at Diamond W Western Wear (E 2nd St), Blaze N J's (W9th St) and Down Lo (319 Main St)
For more than a decade, U.S. reggae artists have been building a foundation from the Hawaiian islands to the east coast. This new generation of reggae artists continues to reach new heights of success with album and ticket sales, as well as winning over fans worldwide. While most modern American reggae bands are rooted in the rock reggae style, there are a few U.S. artists championing the lineage of classic roots reggae traditions, and Los Angeles-based vintage reggae revivalists The Expanders are leading that charge, building their sound around classic 70's and early 80's style reggae, with three part vocal harmonies, conscious songwriting, and an indie-DIY spirit.
The five-piece band comprised of John Asher (Drums, Vocals), John Butcher (Guitar, Vocals), Roy Fishell (Organs), Chiquis Lozoya (Bass, Vocals), and Devin Morrison (Guitar, Vocals) have been making reggae fans and critics take note with their refreshing sound that references the "golden era" of reggae. Morrison and Butcher grew up listening to the record collection of famed reggae archivist Roger Steffens, and credit much of their love and knowledge to the accessibility and education of those experiences. Becoming friends with Steffens' son, they developed an obsession with exploring the deepest reaches of the genre. The Expanders' new album Hustling Culture was released June 16, 2015, on indie tastemaker label Easy Star Records. Hustling Culture is the band's third studio album, but for the band members feels like their first proper album as a cohesive unit. Asher explains, "Our first album was a collection of music from good friends making a record together. Our second album was a great covers album, but Hustling Culture is the band coming into its own with our songwriting and musicianship." Morrison adds, "For this album we spent more time prepping and rehearsing, giving us more confidence in the recording studio. The result made the process more fun and enjoyable as we approached the songwriting in a more organized way and explored a wider range of topics than on the first album. Our combined efforts really shine through and all the musicians really stepped up and gave an inspired effort on the whole record." In addition to the core members, their extended family includes keyboardist Roger Rivas of The Aggrolites and Rivas Recordings. Rivas has been an integral part of The Expanders' recordings and helped maintain and produce the authentic sounds, which shine through on all the band's releases.
The Expanders are on tour now. Morrison concludes, "Our goal is to bring that vintage reggae feel and sound that we love to places where people might not get to hear it on a regular basis."