Grieves, ProbCause, The Halve Two
Thu
November 9, 2017
8:00 pm
PST
(Doors:

7:30 pm

)
Jub Jub's ,
71 S Wells Ave, Reno, NV
(
map
)
All Ages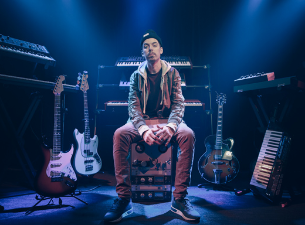 $13.00
Tickets are available locally at Recycled Records (S Virginia), or Jub Jubs (at the bar).
When asked if he always knew he'd end up being a rapper, Benjamin Laub—better known as Grieves—can only laugh. "Oh no, not really," he says, "I was in bands and stuff, but I grew up listening mainly to Punk stuff. It wasn't until I got a little older that Hip-Hop really started to happen for me." When Grieves first heard artists like Mobb Deep and Wu-Tang Clan, he remembers being drawn to their sound. "Hearing all the samples and stuff from records that I heard my dad play when I was a kid… You start to hear the connections. When I discovered people like Atmosphere, it was like hearing somebody speak their truth in a way that related to me. That's when I first started to think about Hip-Hop as a way to really talk about what was happening in my life. Hard to believe that now, over a decade later, that's actually what I'm still doing."
On Running Wild, Grieves' fifth proper full-length, the Seattle based musician manages to balance the dueling impulses that fuel both his live shows and his previous releases: the need to cut loose and the need to vent. Grieves wants to have a good time while also keeping shit real and honest. While previous efforts like 2011's Together/Apart and 2014's Winter & The Wolves might have leaned heavily in the direction of darkness—taking on subjects like addiction, heartbreak, and poverty—the new record introduces some much-needed levity to the proceedings. "I remember a review of one of my records where they were like, 'This guy sounds like he's hella intense and really shitty to hang out with.' I'm like, 'What the fuck?' It's actually the opposite. I wanted this record to reflect that a little more." Read More...