JMax Productions
One Block Radius
Sat
August 5, 2017
9:00 pm
PDT
(Doors:

9:00 pm

)
Lost on Main ,
319 Main St., Chico, CA
(
map
)
Ages 21 and Up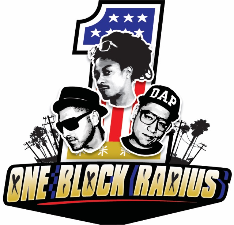 $12.00
Tickets available locally at Diamond W Western Wear (E 2nd St), Blaze N J's (W9th St) and Down Lo (319 Main St)
"We're chasing dreams/And making wishes/I'm a shooting star." "You Got Me"

A combination of old and new school, with a sound that combines pop, R&B and hip-hop, One Block Radius is comprised of three music veterans ready to make their mark on their major label debut for Mercury/Island Def Jam.

The trio, made up of Chico, CA native Marty James, Indiana-born DJ MDA and San Francisco's MC Z-Man, counts among their influences hard-core prog-rap pioneers like The Pharcyde, De La Soul and Cypress Hill, ska-rockers Sublime and classic '80s soul crooners Stevie Winwood, Hall and Oates and David Bowie, sythesized into a melting pot that effortlessly crosses genres. This is a group equally at home sampling the White Stripes (which they did for the song "Mama's Heart") as they are A Tribe Called Quest.
"Every single style of music is represented in what we're doing," explains James, who founded the group five years ago with MDA, a DJ who worked as a graphic artist and designer at the Beastie Boys' Grand Royal label, and Z-Man, an underground staple MC from the Bay Area, part of Del tha Funkee Homosapien's legendary Hieroglyphics collective. "We didn't set out to do that intentionally. It's just something that happened naturally. Different drum beats send me in different directions. I'll hear an old song and think what it was about it I liked, then try to make something with that same core energy."
Marty came down from Chico in 2001, and was introduced by mutual friends to MDA, who was working at Grand Royal at the time. The two put together Scapegoat Wax, a hip-hop group signed to the Beastie Boys' label until it went under, before releasing an album on Hollywood Records. The group is probably best known for the single, "Aisle 10 (Hello Allison)," which was part of the Xbox video game Jet Set Radio Future. Another single, "Space to Share," was included on several motion picture soundtracks, including Clockstoppers, American Sweetheart and 40 Days 40 Nights, as well as an episode of TV's Malcolm in the Middle.
When that outfit disbanded, the pair, looking for a lead rapper, hooked up with Bay Area hip-hop legend Z-Man, a charismatic MC, whose four-track cassette mixtapes attracted their attention for their "animated 3D cartoon quality." He also released a solo album, Dope or Dog Food, on the Bay Area Hieroglyphics Imperial label.
"We all have goals in this business," says MDA, who designs the group's logos, the fliers and the 12" covers. "I want to combine my graphic skills, painting, drawing cartoons and maybe at some point do a singer-songwriter album. And I'm going to continue to rap my ass off."