Escape The Fate, Purge The Perfect, The Lives We Live
Sun
March 19, 2017
7:00 pm
PDT
(Doors:

6:30 pm

)
Jub Jub's ,
71 S Wells Ave, Reno, NV
(
map
)
All Ages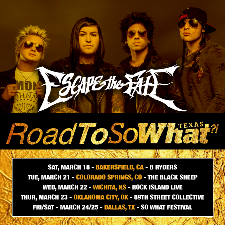 $15.00
Tickets available locally at Recycled Records (S Virginia) and Jub Jubs (S Wells).
When a band has had as storied and, at times, controversial a first decade in the limelight as Escape The Fate, there is often a temptation to focus on that past, rather than concentrating on the future. Yet after releasing their fifth, and arguably most significant studio album to date, the upcoming chapters of the Vegas quartet's career not only look bright, but are set to resolutely be their best yet.
"This new album is, without any question in my mind, the best thing that has ever borne the Escape The Fate name, by a distance," enthuses frontman Craig Mabbitt with no hint of hesitation. A remarkable statement given the last two ETF records gatecrashed the Billboard top 30. "Sonically, we've always been a diverse band who have everything from ballads to really heavy songs - and our fans expect that - but I think on this album we've gone full force with it. The heaviest songs are the heaviest we've ever written, and the poppy songs are the poppiest we've ever done. We came to this kind of 'who cares what people think of us' realization this time around - we're amplifying everything that we love about this band in all directions and it has been incredibly liberating."
Indeed, with the group (completed by drummer Robert Ortiz and guitarists Thomas "TJ" Bell and Kevin "Thrasher" Gruft) now blessed with the most stable and creatively fertile line up they've enjoyed in years, Escape The Fate are gearing up to show the world the scale of the talents that, in truth, they have long possessed. "We wrote probably 50 or so songs in total," explains Thrasher. "There are songs on this record that I've worked on in private for years but have only just come to fruition. There's probably half a decade's work wrapped up in this thing!" "It has been a real team effort this time around," continues Mabbitt. "We have all worked on lyrics, all contributed to the songwriting process. We're the most unified as a team I think we've ever been, certainly in my history in the band. I actually wish we hadn't done a self-titled album already because I think this is our most definitive statement yet." Read More...