Darkest Hour, Ringworm, Tombs, Rivers Of Nihil
Sat
March 4, 2017
7:00 pm
PST
(Doors:

6:00 pm

)
Jub Jub's ,
71 S Wells Ave, Reno, NV
(
map
)
All Ages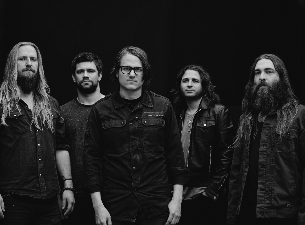 $18.00
Tickets are available locally at Recycled Records (S Virginia) or the bar at Jub Jub's (S Wells)
Some metal bands barely last 10 years, much less 15 years. If a band does get to the decade-and-a-half mark, they're usually sputtering out or are teetering on their last, diseased and ready-to-give out legs. Rare is the case where an aggressive band mutates, growing stronger, more unstoppable and more menacing with every passing riff, scream and album. Darkest Hour are such a case.
The Human Romance is the Washington, DC-based band's seventh album and first for new label eOne. It presents Darkest Hour at their best: fangs bared and ready to pounce through the vehicle that blends thrashy melodic metal with something unworldly.
With their long tenure on Victory Records in the rear view, Darkest Hour are primed to reinvent themselves. "The band is a more grown up version of what it was," guitarist Mike Schleibaum says. "It's hard to pinpoint what 'grown up' means exactly, but we know what the difference is." The fans will know it when they hear it, too. "Growing up" does not mean "watered down" or "toned down" or a "lesser" version of what they once were; it means that they've taken 15 years of experience in the studio, on the road and in the music business and distilled it into a fearsome monolith known as The Human Romance.
It's an album that should top "Top 10" lists among metal critics and magazine editors when all is said and done. Read more...