JMax
Despised Icon, Carnifex, Fallujah, Rings Of Saturn, Lorna Shore
Sat
April 1, 2017
6:30 pm
PDT
(Doors:

6:00 pm

)
Jub Jub's ,
71 S Wells Ave, Reno, NV
(
map
)
All Ages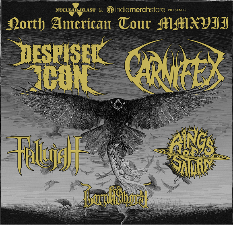 $17.00
Tickets are available locally at Recycled Records (S Virginia) or the Jub Jub's bar.
Hyper-technical deathcore band Despised Icon was formed in Montreal, Canada in January of 2002, and by year's end had already released its first album, Consumed by Your Poison, through local Galy Records. The group suffered a few setbacks due to lineup changes the following year, but rebounded by early 2004 with a retooled formation comprised of dual vocalists Steve Marois and Alexandre Erian, guitarists Yannick St-Amand and Eric Jarrin, bassist Sebastien Piche, and drummer Alex Pelletier. Their next recording was a self-financed EP entitled Syndicated Murderers, which, along with their hardworking tour schedule, helped get them signed to Century Media Records for the early 2005 release of their second proper full-length, The Healing Process. 2007's Ills of Modern Man peaked at number 28 on the Billboard Top Heatseekers chart on the strength of the single "In the Arms of Perdition," while 2009's Day of Mourning garnered positive reactions via the blistering title track and the similarly hard-hitting "MVP. The following year saw the group cease operations, citing the toll that being in a hard-touring band had taken on their personal lives, and the need to focus on their families. In early 2014, Despised Icon made an announcement via their Facebook page that they would reunite for some shows later that spring. More shows followed in 2015, and in April of the following year, they announced that they had inked a deal with Nuclear Blast and would be heading back into the studio. The resulting Beast dropped later that July.
In 2005, vocalist Scott Lewis had a chance meeting with like-minded, gifted drummer Shawn Cameron. Having both played in a countless number of bands over the years that just didn't seem to fit, the connection between the two was felt instantly. Together, they began a search to fill the musical void that had existed in each of their lives. They quickly formed a group and hit the road. CARNIFEX, being the serious-minded musicians that they are, hit the road hard. Refusing to be another "here today, gone tomorrow" trend, CARNIFEX let nothing stop them from perfecting their live show, touring relentlessly, and writing brainsick, yet intelligent, songs. Having endured everything from tour cancellations, van breakdowns and inevitable line-up changes, that "magical fit" was solidified by the end of 2007. Scott and Shawn were complemented by the intensity of guitarist Cory Arford. Bassist Fred Calderon rounded out the furious unstoppable juggernaut.
Together with Nuclear Blast you will see CARNIFEX like you have never seen us before. Prepare yourself for an album that crushes any and all expectations. An album that will stand as the definitive mark for modern metal."